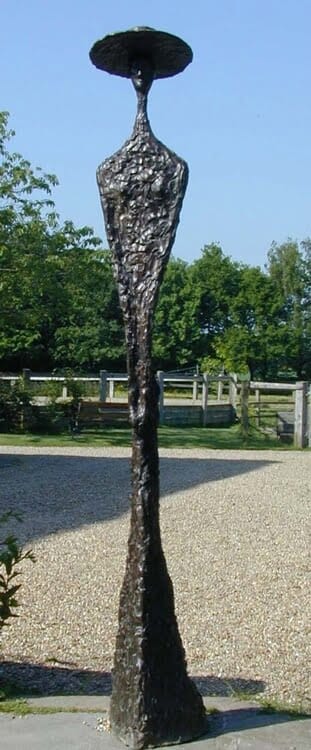 Fine art bronze
  168 x 22 x 30cm (h x w x d)
I was busy being inspired by Giacometti while working on this sculpture in my London studio when a notable interior decorator came to see me for a cup of tea, or an early evening glass of wine; I can't remember which!
What I do remember is that she asked me what I was intending to put on the head of my lady sculpture… …a hat?
I picked up a round margarine carton on the table and placing it on the head of the sculpture.  I took some softened wax and made the rim and produced the hat that you now see cast in bronze. 
"Oh my goodness… …Sybil!" she exclaimed.
"Sybil who?" I asked.
"Why Sybil Thorndike* of course!
"When we were young, Sybil and I would walk up Bayswater to Whiteleys department store and buy picture hats before strolling back to Belgravia across Hyde Park; really looking the part, seriously glamorous and trying to catch the eye of the best looking young gentlemen."
Hence 'Sybil'.  She has a wonderful presence and first rate provenance and I am actually very fond of her.
***
*Dame Sybil Thorndike (1882 – 1976) was a famous English actress who toured internationally in Shakespearean productions, often appearing with her husband Lewis Casson.  George Bernard Shaw wrote Saint Joan (1923) especially for her, and she starred in it with great success.  She was made a Dame by the Queen in 1931 and a Companion of Honour in 1970.  She was quite a character and when asked if she had ever considered leaving her husband, she answered:
"Divorce?  Never!  Murder, often!"