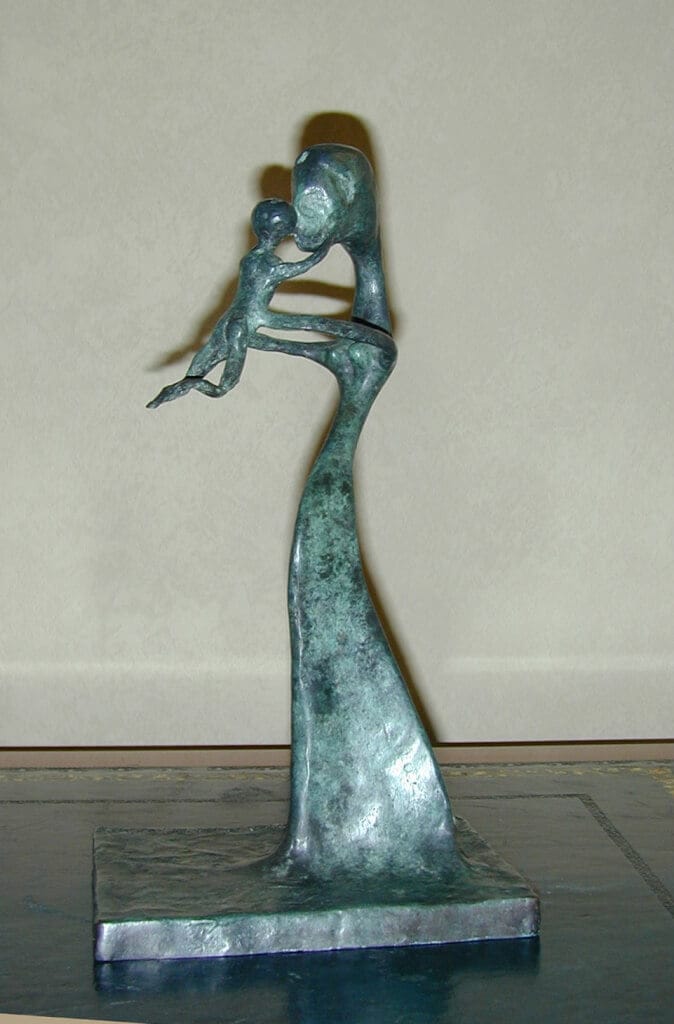 Project Details
Dimensions (cm): 18.5 x 13.5 x 36 (w x d x h)
Weight: 5.7kg
Date: 1989
Tom
Tom is my ex wife Auriol's son by birth, and when we married in 1992 she generously allowed me, with the sanction of Tom's birth father, to adopt him as my son. Adoption papers state: 'as if by birth'.
For me, that was really huge and very important to my life. I had been sterilised when I had cancer twice in 1972 and my dream had always been to have a family, which of course had thereby been denied to me. I had known Tom since he was under 6 months old, and he knew me as Dad from a very young age, so he is bonded to me. I hope I am as good a father to him, as he is a son to me.
So here he is in 1989, a tiny boy being joyously tossed into the air by his proud and loving mother. He had a wonderfully happy upbringing here at Graingers, in glorious West Sussex and still lives nearby. I just said tiny by the way! He now towers above me at well over 6 foot.
He is a well-respected restorer of modern, classic sports and historic racing cars and uses his hand eye skills in a similar way to those attributes that I required when restoring badly damaged mouths in my past life as a Dental Surgeon. Those same skills are still with me and serve me as I make my sculptures.
This cast in bronze was made at the Burleighfield Foundry in 1989, when Tom was under 2 yrs old. It is a celebration of ' Mother and Child'. It is an edition of 8 and in March 2017 there are three of the editon still available.