The Race for Riderless Horses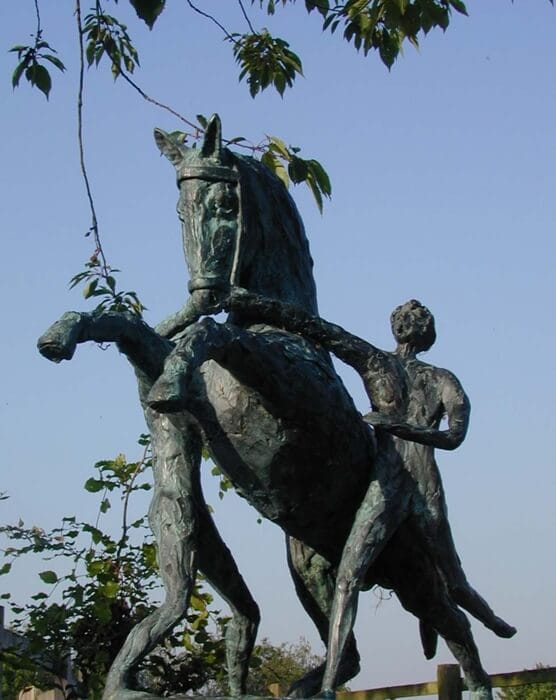 Click on the picture above to see a video by Neil about The Race for Riderless Horses sculpture.

This is the finished piece, with a wonderful verdigris patination.
The Race of the Riderless Horses
As a boy, Théodore Géricault* loved drawing horses and would sit in the stables watching and drawing. In 1817, he travelled to Rome where he witnessed the annual Carnival horse race and subsequently made numerous studies of this spectacle.
My sculpture was inspired not only by my huge admiration of the drawings, but by having visited Italy and seen the small Palios where similar races still take place. In Siena, the horses do have bareback riders on board! The Palio di Siena (known locally simply as Il Palio) is such a race, held twice each year, on 2nd July and 16th August.
The jockeys ride bareback and circle the Piazza del Campo on which a thick layer of dirt has been laid. They do three laps and the race usually lasts no more than 90 seconds. It is common for a few of the jockeys to be thrown off their horses while making the treacherous turns in the piazza, and indeed, it is usual to see unmounted horses finishing the race without their jockeys.
Here is the only horse I have ever sculpted. My ex-Mother in Law, Shirley Pace, drew and sculpted horses quite beautifully and I had no wish to compete, although I am passionate about horses and one- and three-day evented for many years. This sculpture is my riderless horse being taken to the start of the race and here is the little drawing by Géricault that I used as my image.
*Théodore Géricault (1791 – 1834) was an influential, romantic French painter and lithographer.  His best known work is 'The Raft of the Medusa' which hangs in the Louvre in Paris.
Project Details
  Date: 2003