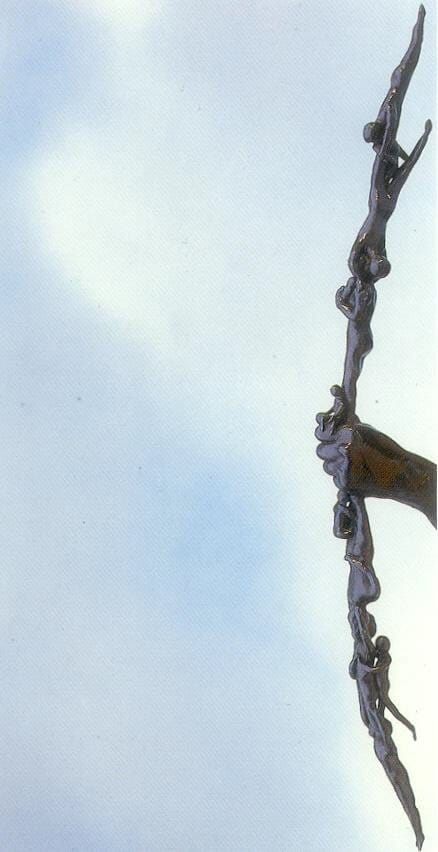 Project Details
Dimensions: 115cm x 10cm x 20cm (h x w x d)
Patination: Black
Original Limited Edition: 8 (fully sold)
Date: 1994
Speak to us of Children
This was the next Kahlil Gibran theme I tackled after making Almitra into a real person!
Gibran wrote very beautifully…
"Your children are not your children,
They are the sons and daughters of Life's longing for itself.
They come through you but not from you.
And though they are with you they belong not too you.
You may give them your love but not your thoughts,
For they have their own thoughts.
You may house their bodies but not their souls.
For their souls dwell in the house of tomorrow which you cannot visit, not even in your dreams.
You may strive to be like them, but seek not to make them like you.
For life goes not backward nor tarries with yesterday.
You are the bows from which your arrows are sent forth.
The archer sees the mark upon the path of the infinite and He bends you with His might that His arrows may go swift and far.
Let your bending in the Archer's hand be for gladness;
For even as He loves the arrow that flies, so He loves the bow that is stable".
Kahlil Gibran – 'The Prophet' – Heinemann
My bronze sculpture echoes the sentiment in this lovely poem…
There is an enlarged version of this work which was a unique 15 foot bronze, cast for Zahhem Construction in London and I am told it was sent to Beirut to be installed at the Gibran Library at BUC – Beirut University College. I have never seen an in situ photograph of the work I made for them.
I am in the process of making a new edition of this work and will post the development process on here with regular updated pictures.