What an incredibly sad day it is today. The first day of October 2021 and yesterday we had to say goodbye to Greg who, at the age of 44, passed peacefully after a very tough, long, hard fight against bowel cancer.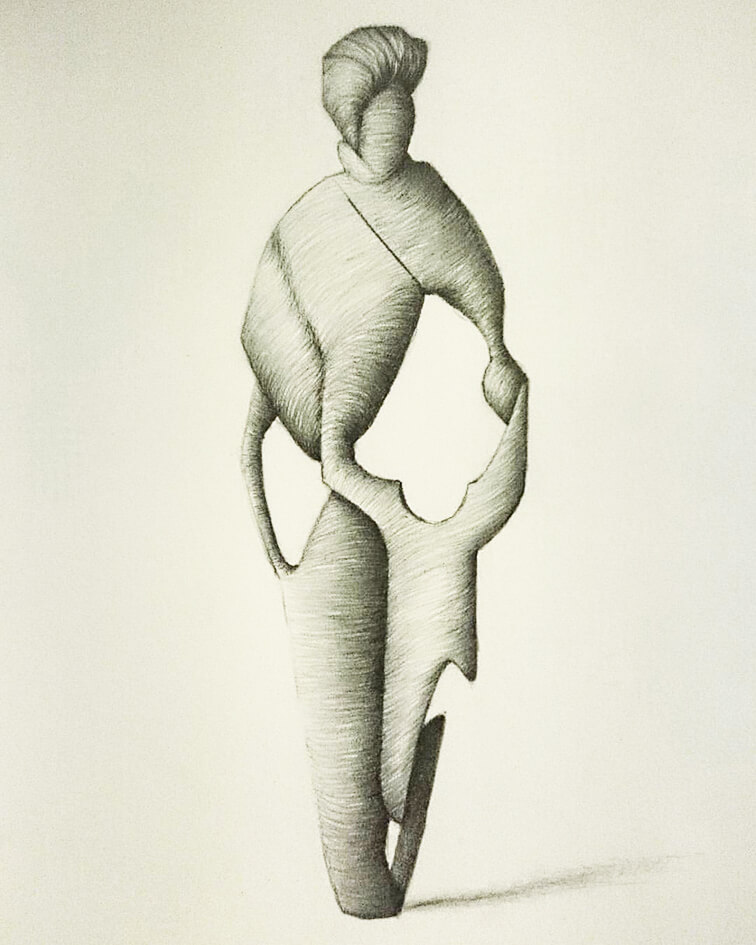 Mother and Child – Greg Gilbert
A talented musician with his band, The Delays, an amazingly creative artist (I called him the 21st century Hieronymus Bosch).  He was a lovely warm hearted man, a wonderful husband and devoted father; the world and his family and friends have been so unfairly deprived.
My heart goes out to Stacey and the children.
I was privileged to know him through the art world and when he was unwell in 2017, I asked him if I could make a sculpture for him by creating a three dimensional representation of one of his beautiful drawings.
Appropriately it was a Mother and Child and here are some photographs showing the work being taken from a drawing into a clay model and eventually into a fine art bronze.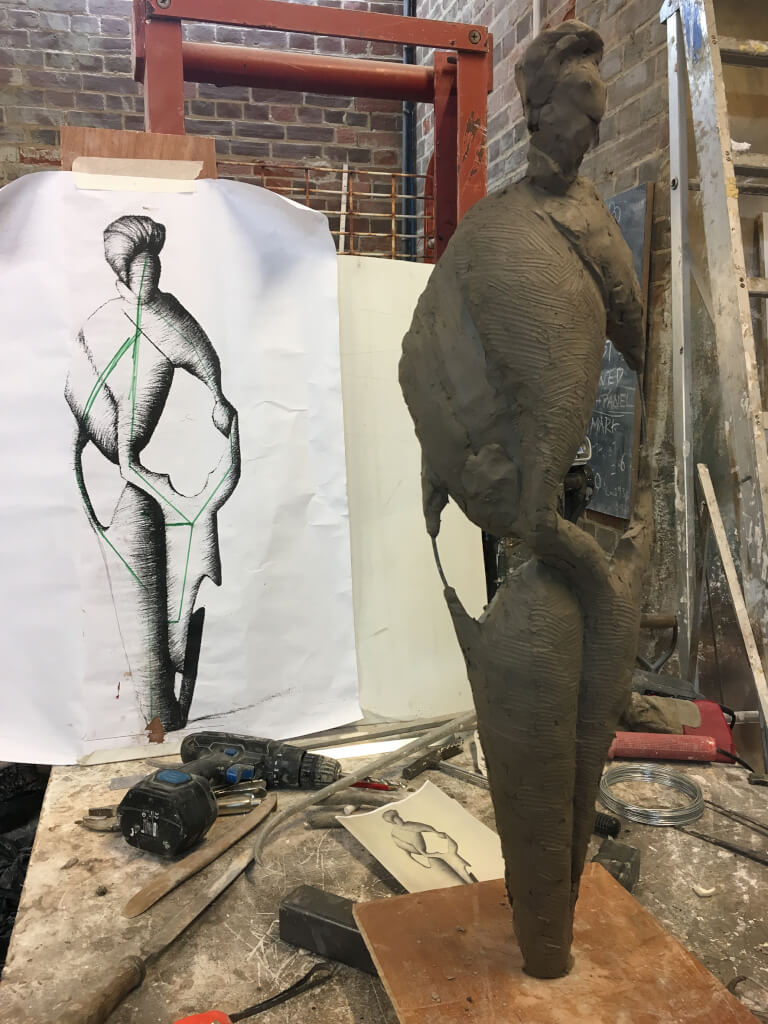 Partially complete model on the bench with the original drawing behind.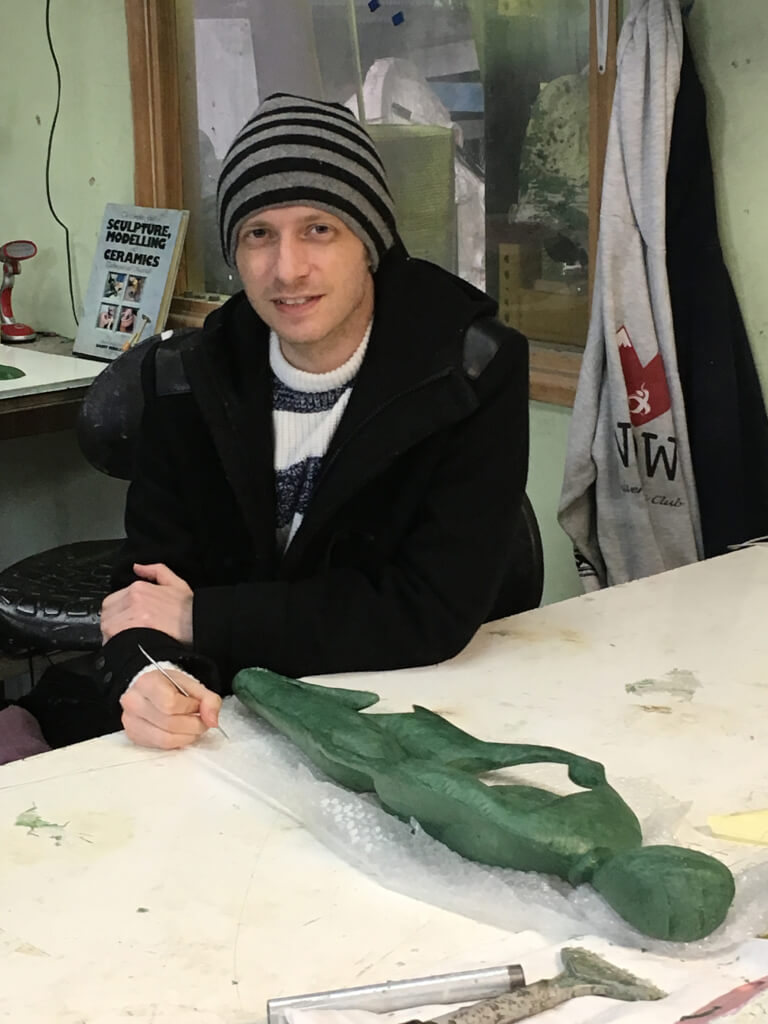 Greg having signed the final wax model.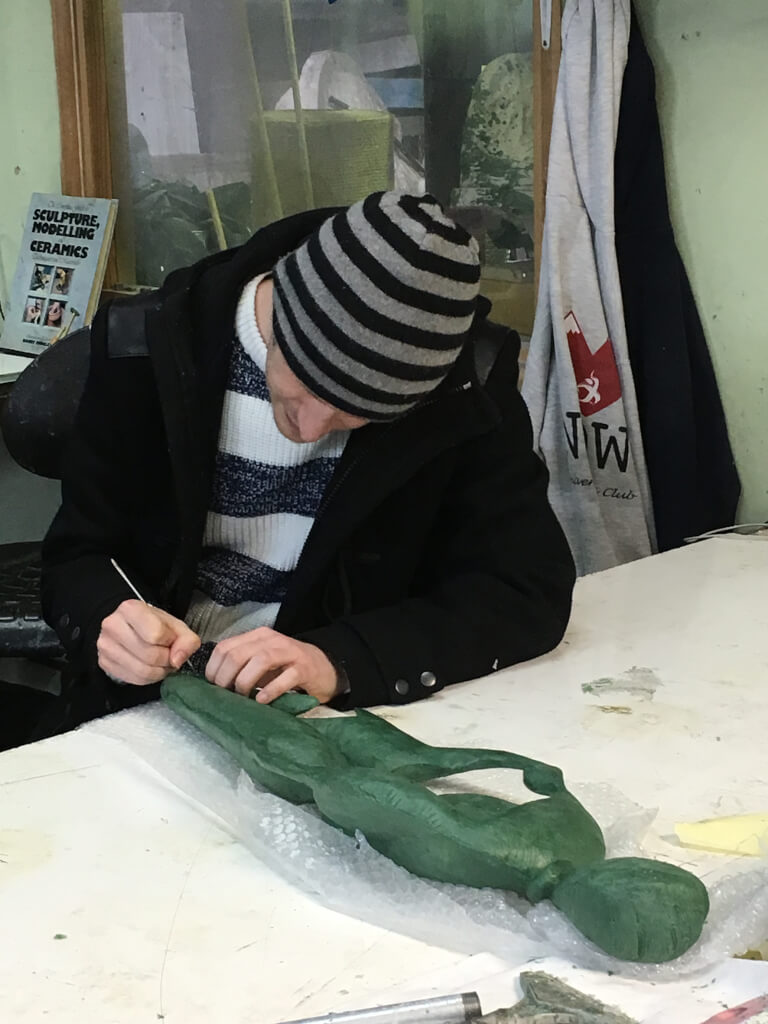 Greg signing the original finished wax model.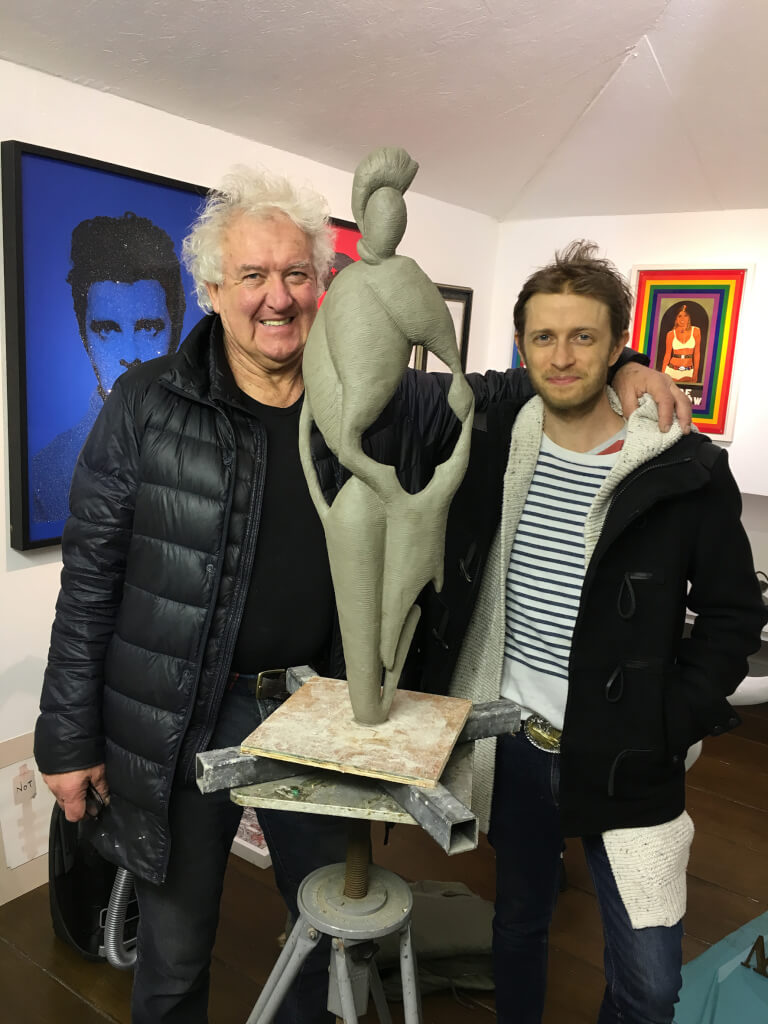 Greg , with me, Neil, in the workshop studio with the finished clay sculpture.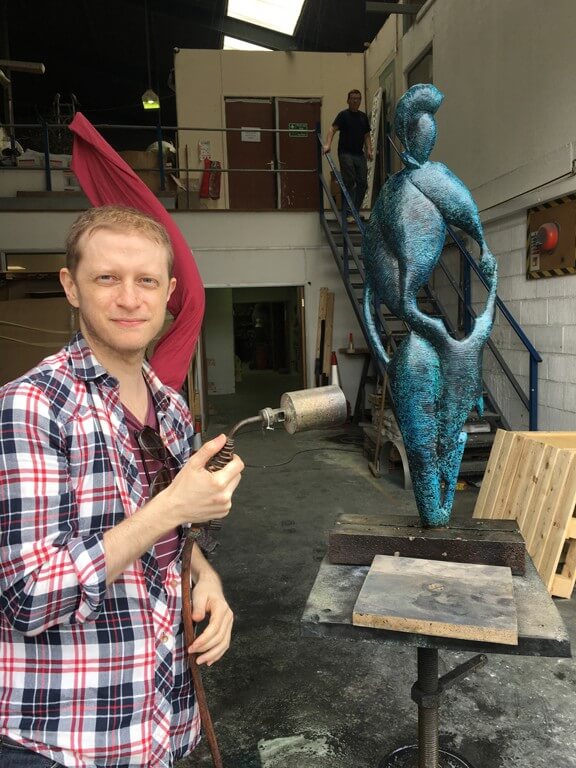 Greg, at the foundry, holding the heat gun used to create the final patina on the newly-finished sculpture.
Greg, at the foundry, holding the heat gun used to create the final patina on the newly-finished sculpture.
Subsequently he sent me a photograph of his daughter Bay admiring the sculpture. A stunning photograph and one which will always bring back my memories of a special friendship during which he also made me a treasured drawing of my late father.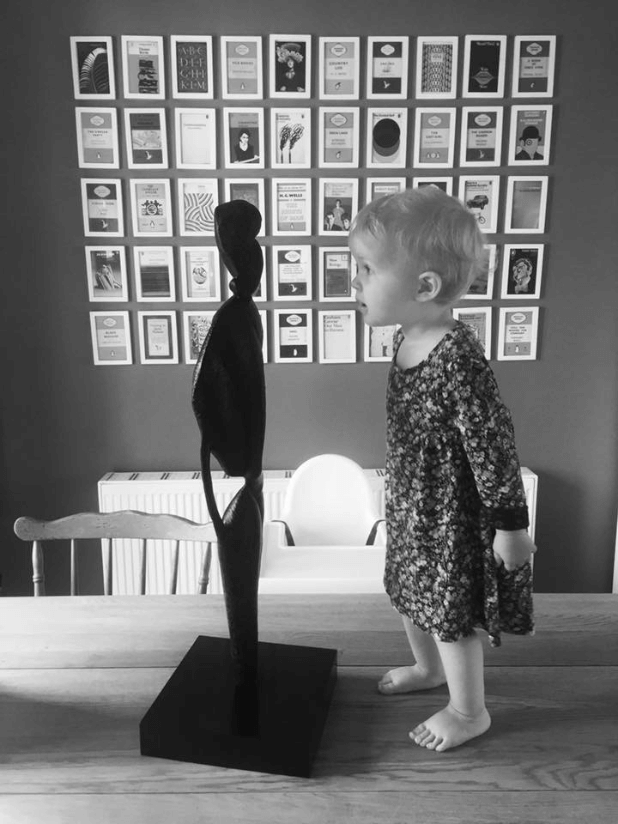 Greg's daughter Bay, looking hard at his Mother & Child sculpture.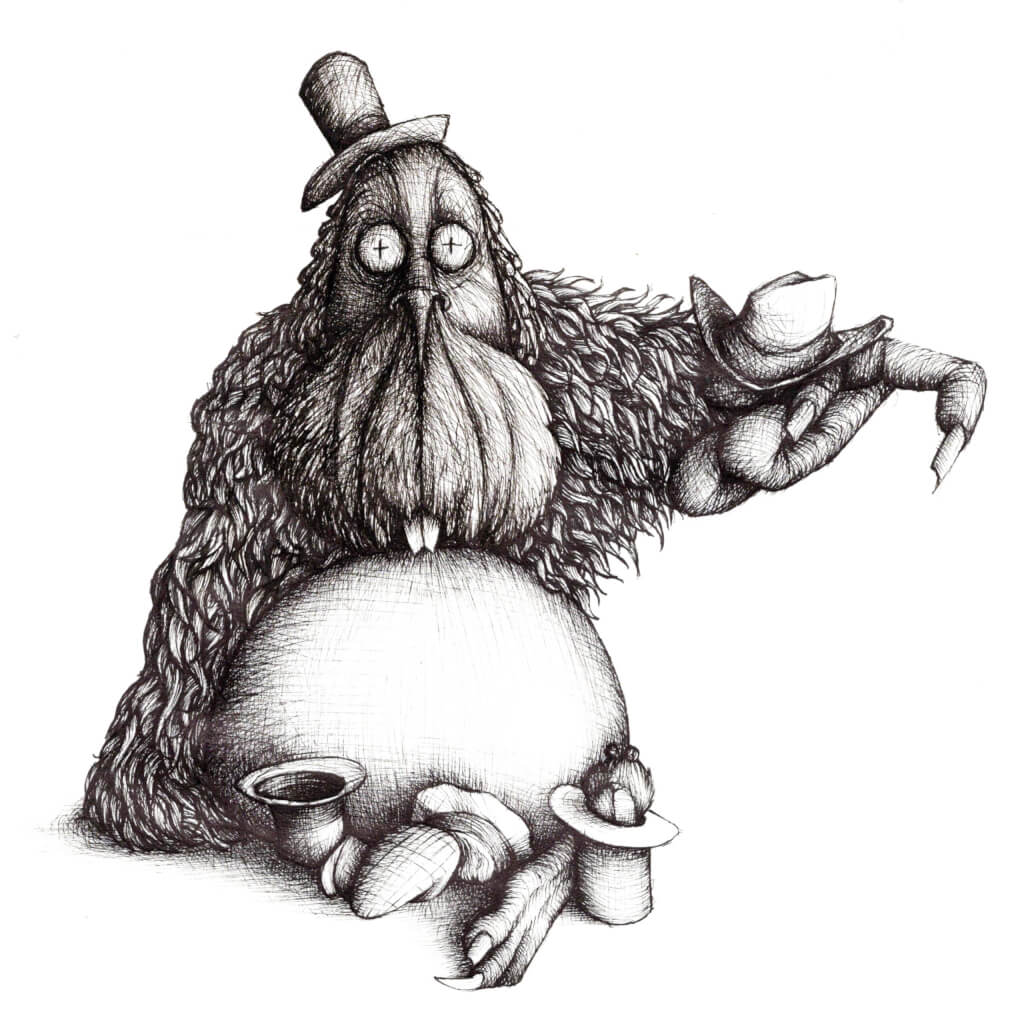 The Hatter by Greg Gilbert
He was a very accomplished artist, doing incredibly detailed work to an extraordinarily high standard.
This is a drawing that he did for me as a present.  It is a fantasy creature, sitting on the ground.  He is furry above the waist and smooth-skinned below.  He makes hats.  He's wearing a top hat at a jaunty angle and has various hat creations at his feet.  He has two big incisors, a bit like a beaver and his left arm and hand are outstretched with a Stetson balanced on his arm.  His hands and feet are very large and have long talon-like nails.