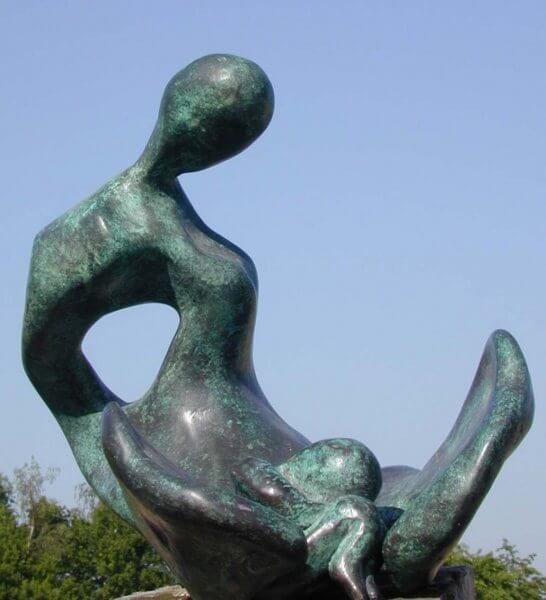 Fine Art bronze maquette 27 x 32 x 19cm (h x w x d)
Originally a very small maquette with a closed pelvis, this work developed and gave birth to a baby, which is separate and lies in the pelvic girdle awaiting its arrival in the world.
It is fascinating to see what comes out of one's mind and through one's hands, using wax or clay and here a shape has appeared, as if by magic.
With no thoughts of what is going to happen, no pre-conceived idea or theme, I often start to soften wax and build a shape.
It is my store of knowledge and my influencers who are creating this work and then suddenly the material being used tells you, the artist, what it wants to become.
Here surely we see Henry Moore with Barbara Hepworth, perhaps Arp and others all living in my subconscious.
With this wax I found myself creating BIRTH, initially quite small, with a closed pelvis. And then subsequently, and this time with intent, the work was enlarged and the pelvis opened to house a baby, free to move into whatever position it wishes, prior to being born.
A moment in time has been created.  An embryonic human being, a baby in the female pelvis, and this one, simply a work of art, is never actually going to be born. Instead it is to be cast in bronze, to simply hold and immortalize that magical moment.
For a mother or a father to be, this work has been made to depict their incredible act of creation.
In any couple's life, this is truly a miracle and for me as an artist, I am just reliving that moment on their behalf as a permanent reminder of their parental union.
It is available as a maquette cast in fine art bronze, or enlarged as a work of art in resin or bronze.
The bronze maquette is in my studio and the resin model for the proposed full-size bronze is in the orchard at Graingers.