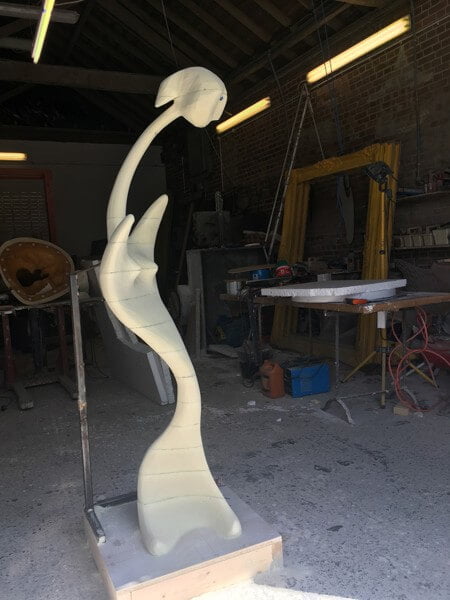 I have just come back from Richard Clarke's enlarging studios where we are making yet another of my works.  She's called Emily.  We're making her in resin as an experiment to see how she looks when she's lifesize.
It is, of course, an enlargement and this is the first stage in that process.  The item is transformed from a small bronze casting, into a lifesize statue in polyurethane foam.  Once the polyurethane is finished and perfected, it will be layered with fibreglass resin and then be coloured to resemble bronze.
Of course this could be used as a finished work, but I always cast my works in bronze and have never let a resin go from my studios.  In my view, however they may look when they are first finished, resins are just not long lasting enough.  They will eventually deteriorate, although that might take many years.  And, although they look really pretty good, resin never has the finish or lustre/patination that a bronze acquires.  That finish grows and enhances, year-on-year, in a beautifully finished, cast work of art.
Here is 'EMILY' being enlarged.  She's just work-in-progress at this stage.  Soon you will see the next step in the making of this sculpture…