RUNNYMEDE BOROUGH COUNCIL

'THE MAGNA CARTA FOUNTAIN'
The Magna Carta, arguably the most important document in British history, some would say the history of democracy, was signed on the banks of the river Thames, at Runnymede, by King John in 1215.
I was commissioned in 1994, to design a sculpture to mark the 780th anniversary.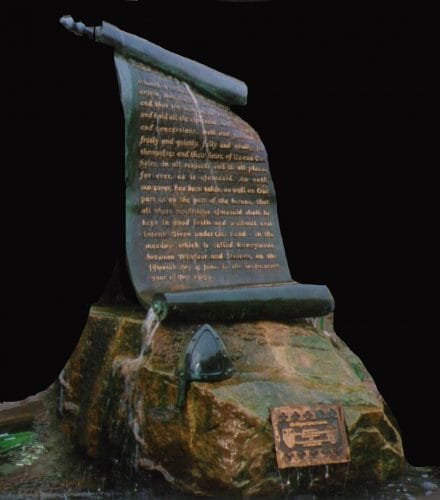 I was asked to design a fountain with a scroll featuring words from the Magna Carta with King John's crown and a Knight's helmet.  But what sort of crown did King John wear?  It is believed to be under the sea in the Wash, lost when he and his cortege nearly all drowned.
After much research I found King John, lying in Worcester Cathedral, with a crown on his head and so I copied it. It is behind the scroll so you can't see it in this picture, but you can see the knight's helmet.
The Master of the Rolls, Sir Thomas Bingham, unveiled the sculpture on June 15th, 1995 in the main street of the nearest town, Egham and I had been fortunate to be part of yet another great historical event.