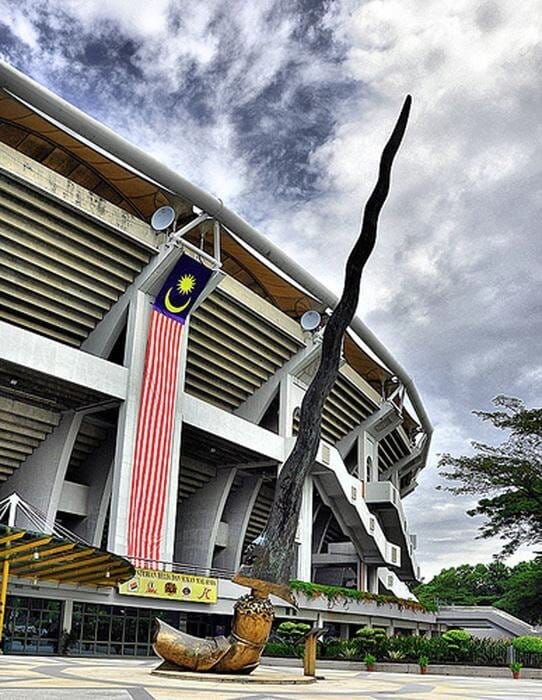 Neil talks about how The Keris got commissioned and how it was made
Project Details
Commissioned by: Dato' Sri, now Tun Dr. Mahathir bin Mohamad – Prime Minister of Malaysia
Client:  The Government of Malaysia
Dimensions: 17m x 2m x 5m (h x w x d)
Weight: 10,000kg
Date: 1996-1997
Edition: 1 of 1
The Keris
In a conversation in London in 1996, I was asked if I could produce a major sculpture for a proposed international sports stadium.  Of course I answered in the affirmative.  This was to be by far the biggest sculptural contract I was ever to be given and it was through the generosity of Tan Sri Arumagum to whom I will always be so very grateful.
At the time, I was collaborating with my then wife, Auriol, who had considerable design and drawing skills as well as understanding architectural plans and was generally very savvy!  I told her about the possibility of us producing a sculpture for the Commonwealth Games stadium at Bukit Jalil, about 20km south of Kuala Lumpur.  It turned out to be the 4th biggest stadium in the world and is now the Malaysian National Stadium!
I was invited to a meeting at The Savoy, to meet Dato Seri Mahathir Mohammad, the Prime Minister of Malaysia, and some of his ministers.  I was met by Sir Tim Bell (now Lord Bell) and Sir Charles Powell (now Lord Powell of Bayswater), both of whom had been right hand men to Mrs Thatcher when she was in 10 Downing Street.  They quizzed me to check my credentials!
Happily, I passed the test and we ended up modifying one of Auriol's designs from which we created a major heroic bronze sculpture, 17 metres high and weighing over 10 tons.  We eventually installed it with foundations and structural advice from John Laing, the civil engineers, in front of enormous arches fronting the stadium which were considerably larger than Marble Arch in London!
Our design brief included these massive arches and a 100 metre long water feature which reflects the bronze Keris at the stadium end so that when viewed from the far end of the water feature, it appears to be lying in its sheath.  A Keris (pronounced kris) is an asymmetrical dagger associated with the culture of Indonesia but also indigenous to Malaysia, Thailand, Brunei and Singapore and also known in the Philippines.  It is famous for its distinctive wavy blade.
There is a strong degree of mythology surrounding The Keris which essentially has to draw blood once drawn but can also, folk stories tell, be drawn, kill your foe and return to its sheath all by itself!  Little wonder that the Prime Minister ran from his office when I drew the Keris to discuss the project with him at Government House in KL!
The sculpture took 2 years to make.  The enlargement was done by me with Haligon in Paris and then the armature designed and made in steel by a company in Slough.  The numerous sections of the sculpture were all cast in bronze at the Burleighfield Art Foundry and then each one argon welded to the armature and chased to finally produce this huge and beautiful Keris dagger.  The patination was all done on site in Malaysia.  The handle of the Keris was made separately from the blade and can be seen sitting in the foundry next to one of Elizabeth Frinks Male Heads in the video accompanying this text.
It was a long and fascinating story producing this work, with numerous 13 hour flights to and from KL, so please look at the video to see the details of how and why this whole design project all happened. HM The Queen visited KL and met us at the stadium.  We were introduced to her as the sculptors who created this work in the UK, when she visited to close the 1998 Commonwealth Games as she had not been available to open it.
The sculpture was originally dedicated by the Malaysian Prime Minister and his then deputy at a pre-games celebration a few months earlier than the actual games themselves.  The whole stadium and its frontage with the arches, the water feature and the Keris were extremely impressive especially when decked with all the Commonwealth flags and lit up at night. This sculpture is now held in great esteem as a national monument and a centre point for visitors who like to be photographed next to it, or sitting on its handle.  We were very proud to have made this work with a host of craftsmen from France, the UK and Malaysia all involved in its production over a 2 year time span.