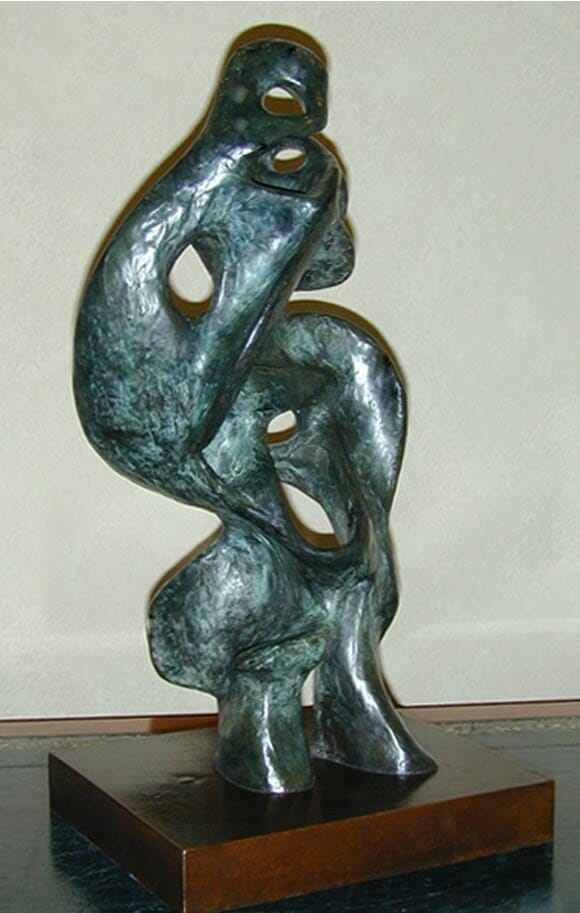 Project Details
Dimensions (cm): 40 x 25 x 15 (w x h x d)
Weight: 17.1kg
Date: 1994
Les Danseurs
Inspired, to be sure by Barbara Hepworth who my founder, Eric Gibbard, at the Burleighfield Foundry spoke of so often. In the foreword to my first exhibition in Waterstones Gallery in Jermyn Street, he wrote: "Sitting late into the night with Barbara Hepworth and discussing purity of line she would say to me… "before you check my sculpture visually, handle it and see if it feels correct".  I must agree that the tactile aspect of bronze sculpture and indeed almost any sculpture is really important.  For me, the feel of a bronze is just as much part of the finished work as its appearance.
My inspiration has been drawn from Rodin to Moore; from Degas to Picasso; from Giacometti to Lipchitz and Barbara Hepworth and Ben Nicholson who together with Henry Moore are set deep in my consciousness.
This bronze sculpture celebrates the dance with life I am still enjoying at the age of 77!
[unitegallery Les_Danseurs]