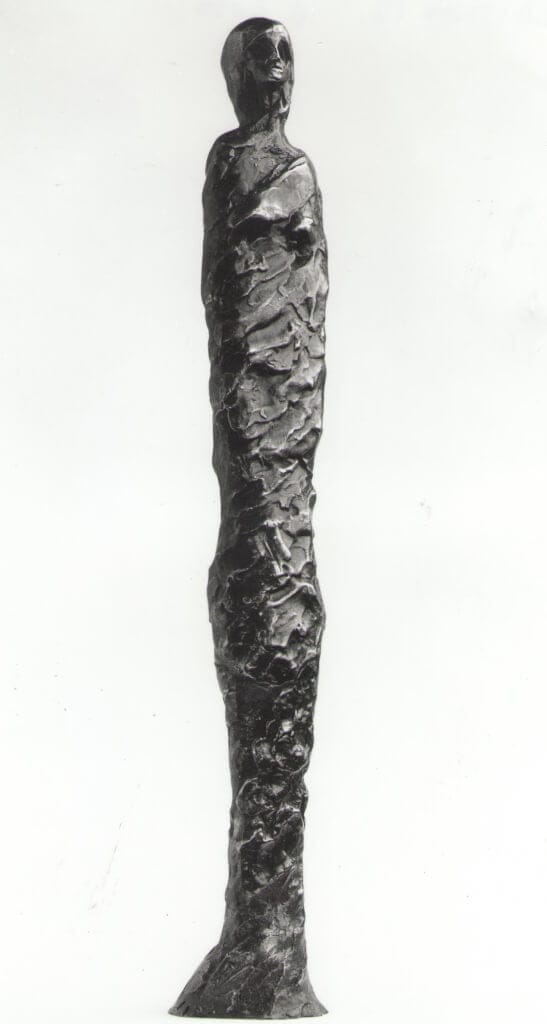 Project Details
Dimensions: 40cm x 40cm x 190cm (w x h x d)
Weight: 23kg
Date: 1987
"Almitra"
When I started sculpting in my bedroom at 31 Wilton Place, in London in 1987 I was recovering from a very bad bout of Hepatitis B, from a surgical needle stick injury, which took 4 months to clear, but which changed my entire life.
It gave me time and forced me to find another creative outlet and I started to make sculpture. Later I also painted and did a lot of photography. I had been told by my physician that if I carried the virus, I could no longer work as a surgeon.
Much to my relief, I cleared the virus, but I was now also sculpting and my primary theme at the beginning was to translate The Prophet by Kahlil Gibran, into three dimensions.
There are 29 poems in this wonderful, best selling book and it begins with Almitra who came from the mountains and asked the questions of 'The Prophet':
And there came out of the sanctuary a woman whose name was Almitra. And she was a seeress.  And he looked upon her with exceeding tenderness for it she who had first sought and believed in him when he had been but a day in their city.  And she hailed him, saying: 'Prophet of God in the uttermost, long have you searched the distances for your ship.  And now your ship has come and you must needs go.  Deep is your longing for the land of your memories and the dwelling place of your greater desires;and our love would not bind you, nor our needs hold you.  Yet this we ask of you ere you leave us, that you speak to us and give us of your truth. And we will give it unto our children; and they unto their children, and it shall not perish.'
From The Prophet by Kahlil Gibran 1923. First published by Heinemann : London 1926.
Although I have only created one sculpture of Almitra, it is available in two sizes, both cast in bronze.
A maquette edition of 12 cast by Burleighfield up to No 4/8 which is 62cm high and 7.4 kg and, secondly an edition of 3 at 244 cms high. (No 1/3 was stolen from the front garden of 16 Wilton Place, London SW1).  No 2/3 is in my studio garden and 3/3 is not yet cast but is available for purchase.
Height 190cm Weight 23kg.