As busy as ever, I have been writing Children's Stories as well as self-publishing books on my Sculpture, Photography and Poetry.
I am also writing a new book on my adventures when we drove Around the World in 80 days in a 1964 Facel 6 (the last of the Facel Vega Sports cars). In the Millennium year, 2000, we saved the life of a very brave young girl diagnosed with terminal cancer. It is the most incredible story and has never been written. Watch this space!!
Recently another new work has emerged from my studio.
I have named her Florence as she reminds me of the strength and yet love and tenderness shown by Florence Nightingale in the work she undertook in the Crimean War.
'FLORENCE'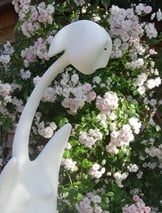 Made first in wax as a small maquette and cast in bronze ……………….
Florence has now been enlarged in resin and will be cast in bronze at the Morris Singer Foundry in Basingstoke in the near future.