The Gibran Sculpture Series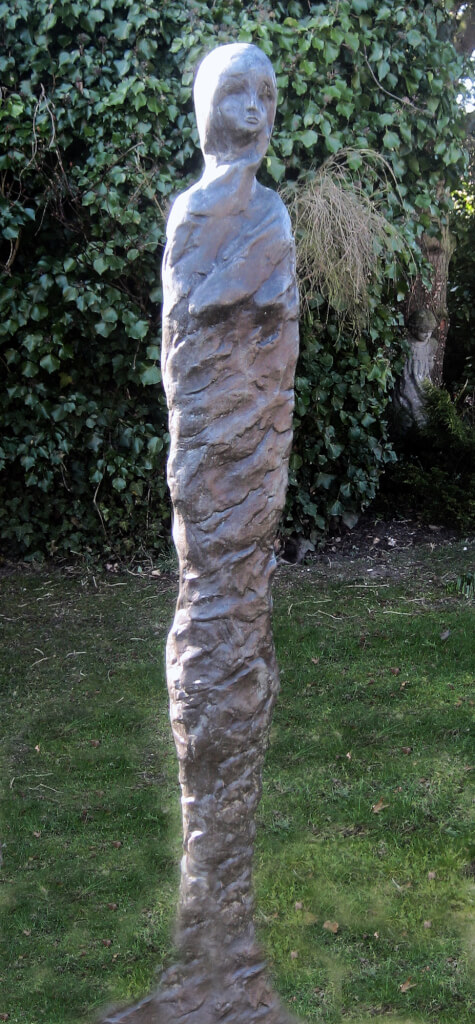 Bronze: 200 x 24 x 27cm (h x w x d)

"And there came out of the sanctuary a woman whose name was Almitra. And she was a seeress.
"And he looked upon her with exceeding tenderness, for it was she who had first sought and believed in him when he had been but a day in their city."
"Prophet of God, in quest of the uttermost, long have you searched the distances for your ship.  And now your ship has come, and you must needs go.  Yet this we ask ere you leave us, that you speak to us and give us of your truth.  And we will give it unto our children, and they unto their children, and it shall not perish."
Kahlil Gibran, The Prophet – 1923
When I started sculpting in my bedroom in London in 1987, I was recovering from a very bad bout of Hepatitis B.  I had contracted it from a surgical needle stick injury.  It took 4 months to clear, but it changed my entire life.
It gave me time and forced me to find another creative outlet and I started to make sculpture.  I was told that if I carried the virus, my career as a surgeon would be over.  So it was with huge relief that I did clear it!
By the time I had done so, I was sculpting.  At the beginning, I wanted to translate The Prophet by Kahlil Gibran, into three dimensions.
There are 28 poems in this wonderful, best selling book and it begins with Almitra who 'came out of the sanctuary' and asked the questions of 'The Prophet'.
Although I have only created one sculpture of Almitra, it is available in two sizes, both cast in bronze.  It is available as a maquette, which is 62cm high and a second version at 200cm high.  Both were originally cast by the Burleighfield foundry.
Almitra from the Gibran Sculpture Series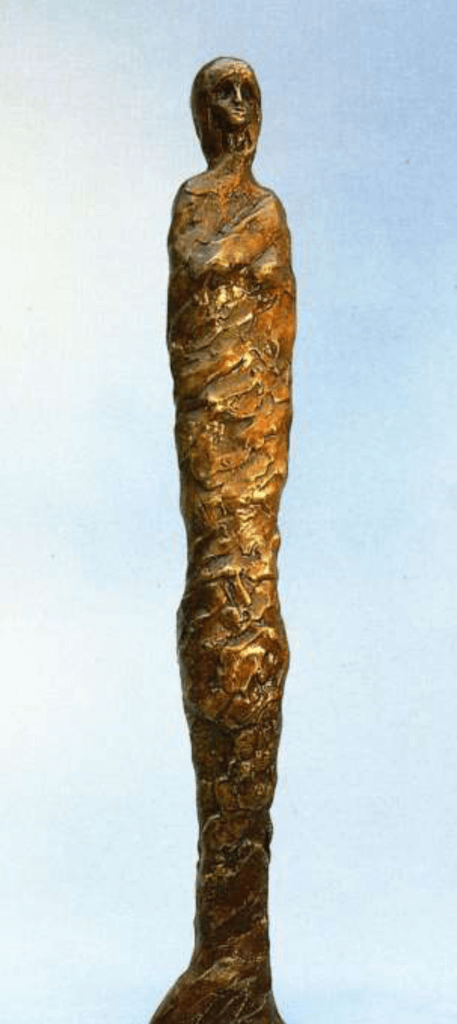 It's an interesting question!  The word or name Almitra doesn't seem to exist before the publication of The Prophet as far as is known, so that suggests that Gibran must have made it up.  He was fluent in several languages and very well read in philosophy and religion, so it seems likely that he invented it.  The 'Al' is very familiar to Arabic speakers as 'ال' which literally translated, means 'The'.  Of course, if you happen to know otherwise, I'd love to hear from you!
'Mitra' is apparently a Sanskrit word, most strongly associated with Hinduism, but also Buddhism.  Depending on the source, it means either 'friend' or 'seer' (as in clairvoyant).
I leave it for you to choose whether you think of Almitra as 'The Friend' or 'The Clairvoyant'!
The Gibran Sculpture Series
Of course, when I started sculpting, there was no series.
The Gibran Sculpture Series has evolved and developed and
now I'm very proud of it!
Almitra is a tall, slim, elegant figure.  She has a delicately featured face, which is slightly sad, and solemn and yet sensitive too.  It is surprising how much you can read from a sculpture!