Sculptor, Artist, Photographer – Neil Lawson Baker – How to get here
As a sculptor, artist and photographer, I love meeting people.  This page is to help you find my studio so that you can come and meet me and my wife and view my art of all types, sculpture, paintings and photography.  If you prefer to look at a map, then please scroll down.
Coming by car
It is the first house on the B2146 from the B2178 East Ashling – Funtington Road and
You'll know you've found us when you see the Union Jack flying in the front garden at the entrance and, depending on which direction you are driving from, we are the first or last house in the village!
We are very happy to provide written directions if you prefer, so please contact us if you would like them.
Graingers
Southbrook Road
West Ashling
Near Chichester
West Sussex
PO18 8DN
UK
Please park inside the gates or on the area on the road outside, but please don't leave your car blocking the driveway please.  My studio is in the large barn in the main courtyard and the gallery is down the drive on the right past the first garage.
If you get lost and need directions, then please feel free to phone me on 01243 576082 or 07802 896 073.
Here's a photo of the entrance: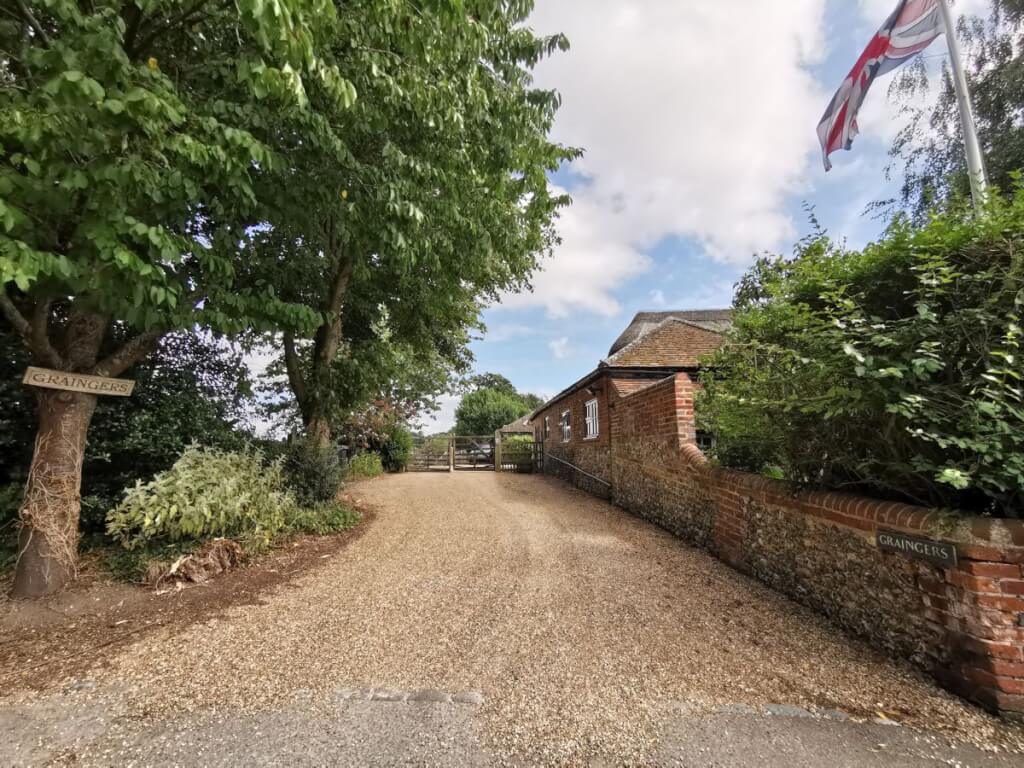 You may know that we have a holiday cottage that we let which is on the property and which you get to along the same drive.  It is registered on Google, so here is the Google map and directions to it and us.
Coming by train
Havant station is 1hr 30 minutes by train from Waterloo (on the Portsmouth line) and then a 10 minute taxi ride.  Chichester station is 1 hr 40 minutes by train from Victoria and is again a 10 minute taxi ride.
Coming by plane
We are 1 hr 15 minutes from Heathrow; 1 hr 15 minutes from Gatwick and 25 minutes from Southampton airports.